What is it
If your passion for speed and the roar of engine, the Ferrari test-drive is what you are looking for! Join MotorSportItalia Club and get the opportunity to realize your dream! With MotorSportItalia Club Card you will get an unforgettable experience driving one of the famous Ferrari!
Ferrari F430, Ferrari 430 Scuderia, Ferrari California, Ferrari 575M, Ferrari 599 GTB, and, finally, the new Ferrari 458 Italy in Maranello, the city where famous Ferrari was born… Legendary symbol of Ferrari a symbol of Italian cars and national pride. Also, you can choose the time of the test drive, whether it is 15 min. or more. Our expert assistant will help you reveal the deepest secrets of these unique cars.
A test-drive will be preceded by quick briefing where you will be told all details and driving features of this perfect car, so you could fully enjoy by this wonderful moment. So what are you waiting for? Implement the desire of your life and get a unique experience! Get our card and join the MotorSportItaliaClab!

Card
This year MotorSportItalia begins to invite all fans of engines to gain the first real driving experience and offers the world exclusive possibility to become a part of MotorSportItalia Club. MotorSportItalia Club Card gives a chance to present an unique and unusual gift. With this card you become a part of team, the central figure at the wheel of well-known red Ferrari on the land where Ferrari was born.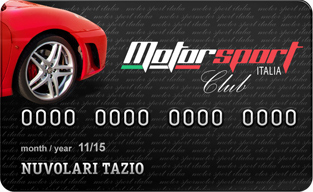 Purchaising exclusive MotorSportItalia Club card you receive unforgettable experience of driving within 20 minutes. At your desire driving time can be prolonged on an hour or even days *.
To all card-holders we provide 24 hour information support. Our employee always answer you in your language and will suggest, where it is better to have dinner or spend romantic evening. Come to Italy, bust the Ferrari! Visit restaurants and taverns where Italians, not tourists have dinner. We will advise the best hotel to put at. We will do our best to make your rest pleasant, grasping and unforgettable. In advance for you … from us!
MotorSportItalia Club suggests you to join our club and to present a card to your friend, partner, spouse or son. We, MotorSportItalia, want to extend worldwide the most powerful experience of the most powerful cars driving. For people like us, with engine in thr heart.
The card gives access to the private part of our web source where you can choose approaching test drive date and time, pleasant hotel and a place where you will celebrate unforgettable experience of Ferrari driving.We also advise you to visit a museum of the most fanous cars in the world – Ferrari.
* option to be paid separately
Maranello and Ferrari
Ferrari! Today it's not only racing team, Ferrari is a symbol of Italy, a symbol of speed, perfection symbol. Ferrari it's a legend, religion, worship object all over the world.
The center of Ferrari worship, certainly, is Maranello – not small provincial Italian town where well-known racing "stable" is based. Maranello is Italian automobile Mecca. Everything - from the streets bearing names of great racers of the past (Musso, Askari, Nuvolari, Zhilja Vilnev), – to the tiny shops full of stuff with symbolics of Ferrari, says that you are caught in the special world, Ferrari world.
Visit of a small pink structure in the street Askari – legendary headquarters Scuderia of Ferrari is a must for tourists coming here. Entering, you by all means will plunge into atmosphere of former Scuderia triumphs, on the walls – a score of huge photos: Villorezzi, Moss, Fanhio, Bandini …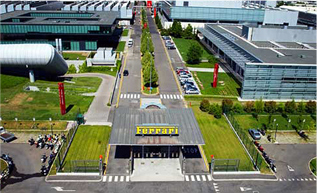 Here there is also a well-known office of "the old master" Enzo Ferrari. Alas, but it's ten years since "the anchoret from Maranello" has departed from this life, but his spirit soars here, returning us to the past, to the legendary 50 – the time of Ferrari flush.
All began much earlier. In 1929 not so rich and not so successful Italian racer Enzo Ferrari, the 2nd place in Targa Florio was the highest point in his career, has founded own racing team.